Marshall Goldsmith: King of Persona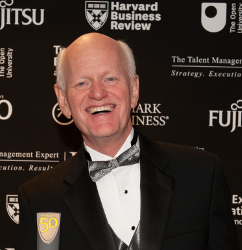 I had a few of Marshall Goldsmith's books on my reading list and just hadn't gotten to them. It was rather inexcusable; I mean, the majority of my work is business book editing and writing. He is the winner of the Think50 Leadership Award (the world's most influential leadership thinker), has been recognized in a Business Week article for being one of the most influential leadership development experts, teaches at Dartmouth's business school and speaks at many of the others, and Harvard Business Review recommends his books all the time.
So I finally picked up What Got You Here Won't Get You There. A couple of chapters in and I was surprised by the author I was getting to know—the authoritative but likable coach. Read a list of his credentials and you might develop a different expectation of who you'll find on the page. Authoritative, certainly. But approachable, compassionate, human, humble? Yet that is the author persona he conveys. As a reader, you trust him. And because he's revealing about his own flaws, it makes it easier to face your own, at least in the context of the book's topic.
How does he create his persona?
He tells stories about himself, and they aren't all positive. In the chapter on thanking, he tells a revealing and funny story about learning to be thankful and say thank you. He has his own learning moment, but he doesn't claim to have mastered the skill he's espousing.
In the stories he tells about his coaching clients, he inserts himself enough that you know he was there and offered guidance, but not so much that the story is about his success as a coach. The stories are about his clients' successes, their abilities to overcome hurdles and move forward. The mark of a true coach.
His writing style is conversational. When reading, you feel you're in a room with him listening to the stories or the advice he's given to countless other businesspeople. He weaves narrative and expository content together as you would in a conversation.
He leverages simplicity. A good coach is great at boiling information or advice down to the essentials, presenting it in a way that makes it easy to digest. If you look at the contents page for the book you might think there aren't many new ideas within, but that isn't so. He just wraps his deep knowledge in a cloak of approachability.
Who do you want to be to your audience? And how do you plan on developing that persona in your writing?