How Will Your Book Change the Future?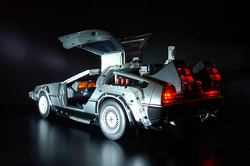 Last year, I attended the last O'Reilly Tools of Change for Publishing conference. I wasn't looking for a way to redefine my work as an editor, but that's what happened. Brian David Johnson, futurist for Intel and author of Vintage Tomorrows, gave a phenomenal speech called "How to Change the Future." How? "You change the story people tell themselves about the future they will live in." I have to tell you, I got a little choked up. I love books and I love publishing, but I had never quite thought about what we do in that way. I help people tell stories that will change our future. Now that's purposeful work.
But you, as an author, should feel even more inspired. Your book has the potential to change the future, because you will change the stories that people tell themselves about the future that is possible. Watch Johnson's video and think about all of the ways your book will change the future. And then make it happen.